I know it's been over 2 weeks since they happened and Tony buzz is completely over…but….I have yet to blog about one of the most epic nights of my life.
Ever since I was little, I can remember watching the Tony awards with my sister each summer. We taped them, re-watched them, obsessed over the songs, and looked forward to it.
Instead of sprawled on my couch in the guesthouse in my PJ's holding a popsicle in one hand and my DVR remote in the other hand…this year….I was at the Tonys.
TRUE STORY: DREAMS COME TRUE
I officially became even more obsessed with NY1 after they offered to get me all credentialed to cover the red carpet arrivals at the Tonys. It was an honor; a lot of hard work to look glitzy, and all together an amazing experience I will most definitely NEVER forget!
The evening began with me having numerous hair fails and freak-outs before leaving for the red carpet. I had a gorgeous gown to wear that I borrowed from my fabulous NYC aunt Kristen, who is far more glamorous and swanky than me…but I think I sort of pulled it off. Elora did my hair and I did her hair in our little I House rooms. I spent extra long on my make-up…and was sort of surprised when I looked in the mirror. I looked red carpet ready! Elora and I hopped in a cab and arrived at the Beacon Theatre….donning many congratulatory yells from passerbies. I guess we looked like we were up for an award! Duhhh we just said thank you…haha. Definitely not going to give away that we were just interns along for the ride.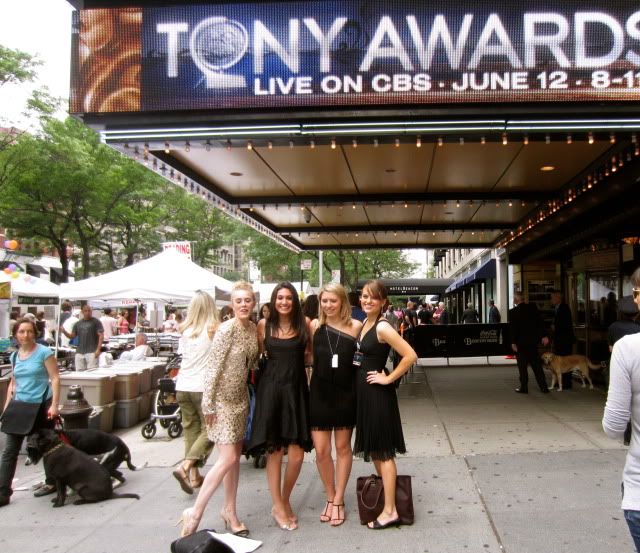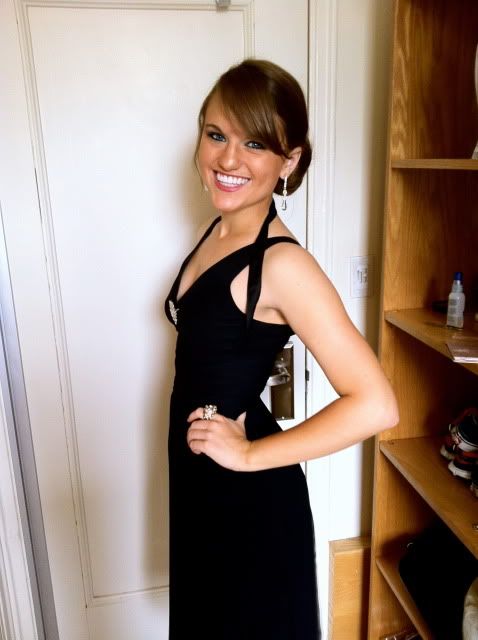 When we got to the red carpet…it looked like this:
Very red and empty and covered in plastic. We were definitely the first people there. Yes. For some reason, NY1 is the ONLY news station that has live coverage of the red carpet. We have a set of anchors in the front that Elora was helping field produce for. I was with our second set of anchors at the end of the red carpet. I had been studying my in-depth Tony packet for the previous days, which had pictures, bios, and questions to ask all the possible celebs we could meet on the red carpet. I felt ready. And when we got into our place on the actual not-covered-in-plastic red carpet, I was sure the evening would be easy and relaxed and enjoyable.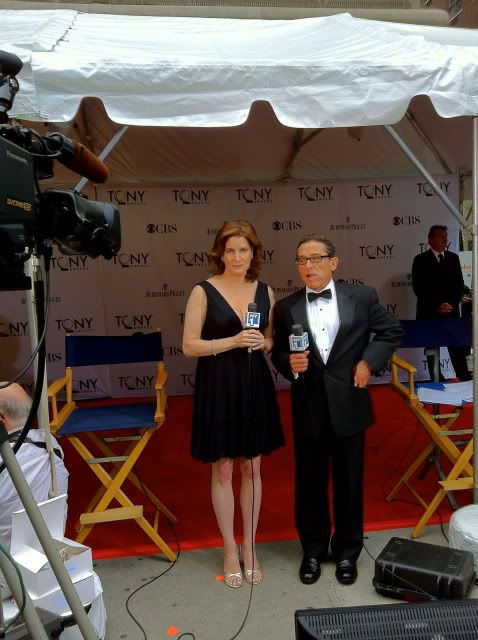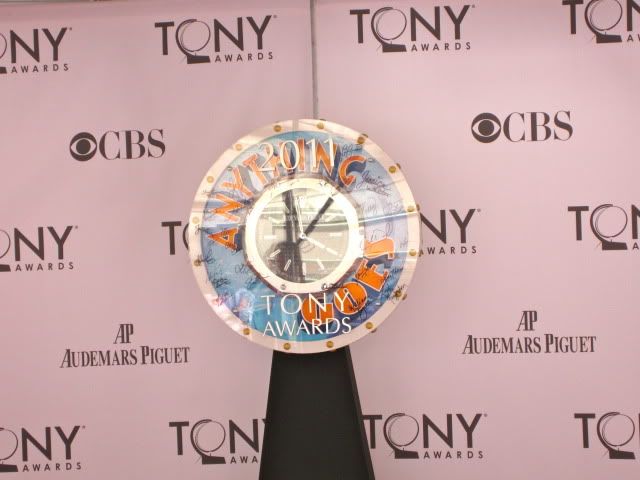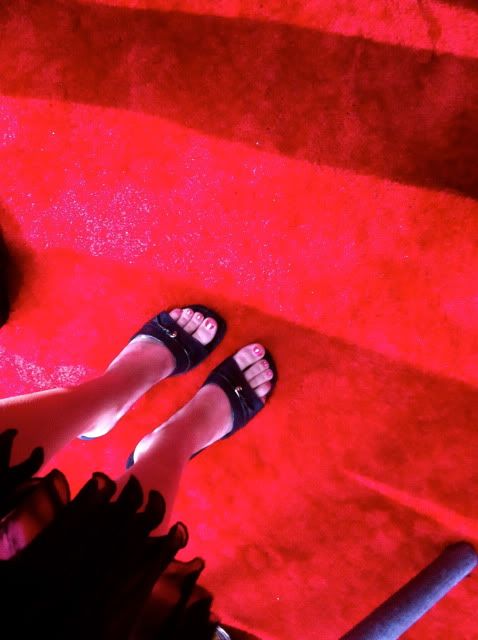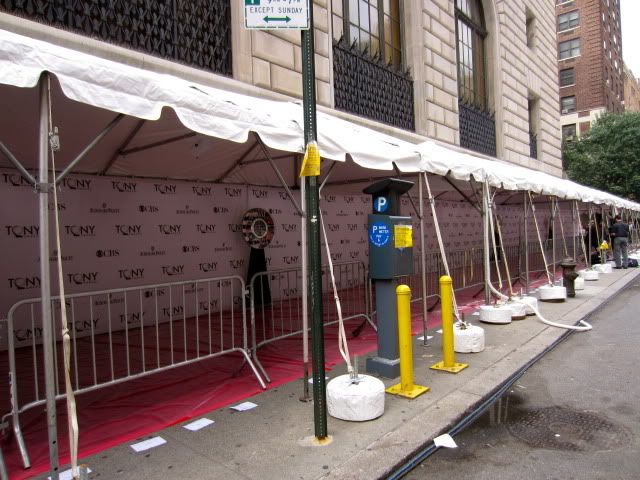 WRONG. Well….it was enjoyable..but it was sort of a weird out-of-body flurry of excitement and famous people and crazy madness.
ALSO. We were being broadcast on the jumbotron at Times Square…where thousands of people were sitting and watching all the coverage. Including my Aunt Lisa. Holler and REPRESENT!
For those of you wondering how red carpet news coverage works, it basically works like this: famous people's publicists drag them over to our news station, which they all went to seeing as how we were the only news station covering it. Then they shove them into the arms of the anchors that chum it up with them and drool over their dress and nominations while waiting for the signal that they are on the air. Lots of times they give the celebrities a little hint on what kind of questions they will ask them. Then they go live, and ask them the questions. and then they move along. Surprisingly, most all the celebrities (cough cough Alec Baldwin) are so happy to chat with us and are just as sweet in real life as they are on camera. It was really cool.
So where do I come in??
I am standing right behind them talking to publicists and rejecting the boring celebrities that we don't want to talk to that are trying to get on camera….aka….costume designers and lighting specialists. (yawnnn…)
"I'm so sorry…we are just so backed up or else we definitely would interview you!!!"
My main job really became schmoozing it up with their dates….or most commonly "partners."
(Remember we are at the TONYS for pete's sake).
I am now apparently BFF with the winners spouses…kids…and partners.
So random, but I like it.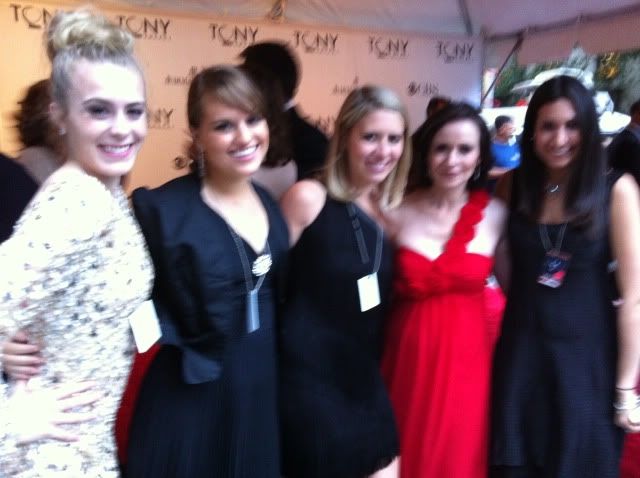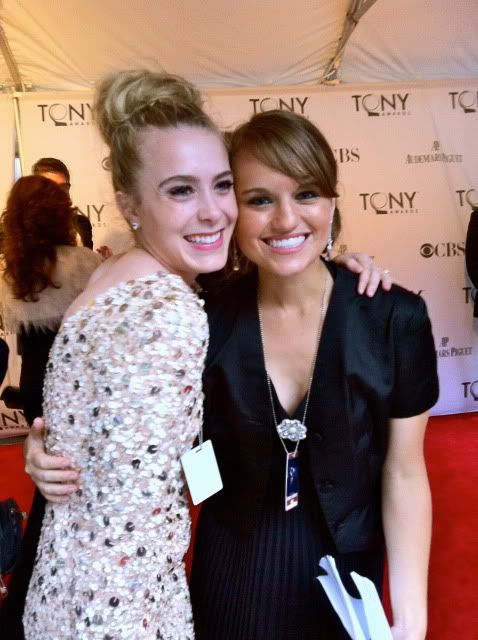 I was also totally taking creeper pictures on my iPhone the whole time. Yup…still a big time creeper even during the most important job of my short broadcasting career.
The most hilarious discovery of the night was when I got text messages and pictures from family friends who were watching our live NY1 coverage on the Tony website/CBS website/on the jumbotron and discovered that I was smack dab in the shot that they were broadcasting. As in…there is one anchor, then a celebrity, then another anchor…then anna matkin hayes. Seriously. It is so funny to me that I was visible the whole time. I was happy enough attending the Tonys awards…but ended up being prominently featured at the Tony awards! Best text convo of the night was with my little sister:
Lizzie: ANNA WE CAN SEE YOU ON TV!!
Anna:
what!??!
Seriously!!
Lizzie:
yessss!!!
Mom says spit out your gum now.
Anna:
crap….ok I am on it.
Hahah.
Good ole mother.
Always looking out for me.
Here are some new found red carpet friends I came into contact with: (#1=Sutton foster. She and I had a little convo..and she was SOOSOSOO NICE! Love her.)
Sutton foster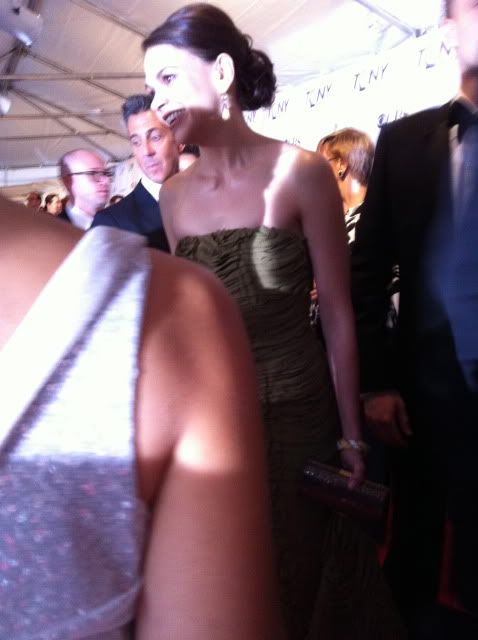 Chris Rock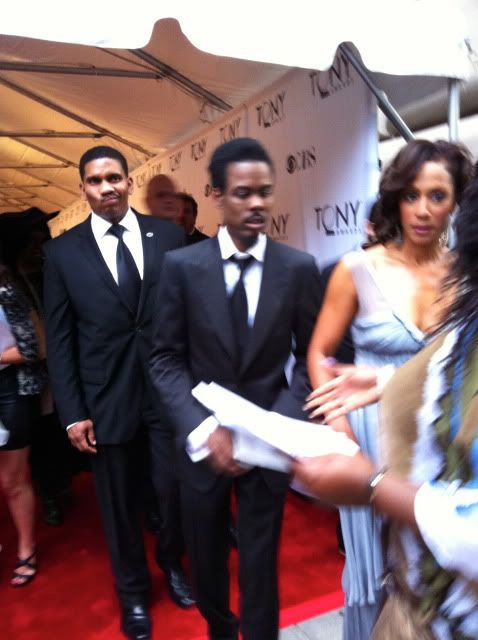 Alec Baldwin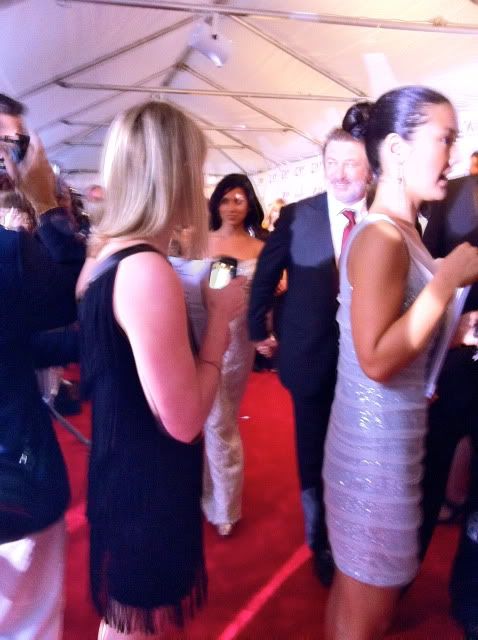 Patrick Wilson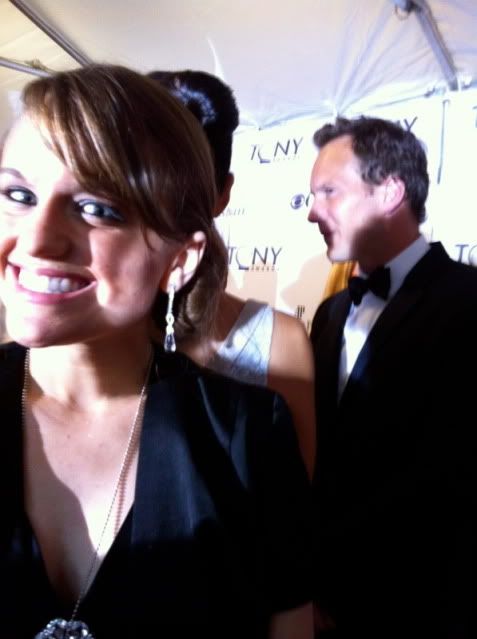 Whoopi Goldberg
Neil Patrick Harris
Fail of the night was that Harry Potter didn't walk the red carpet like we thought he would. Mad. Avadra Kadavra Daniel Radcliffe.
After the red carpet was cleared off…we all hustled up to the top floor of the Beacon Theatre to the pressroom. The pressroom=a magical room filled with delicious food and drink where reporters and publicists sit and watch the awards. After someone wins an award, they came upstairs and out of an elevator holding their Tony award and still wiping the tears off their faces. It was epic. It turned into the 3 and me other interns eating way too much food and laughing way too hard. But it was so fun. We had such a great time. We also had to time-code the awards for our producers and keep track of the number of Tonys each show was won.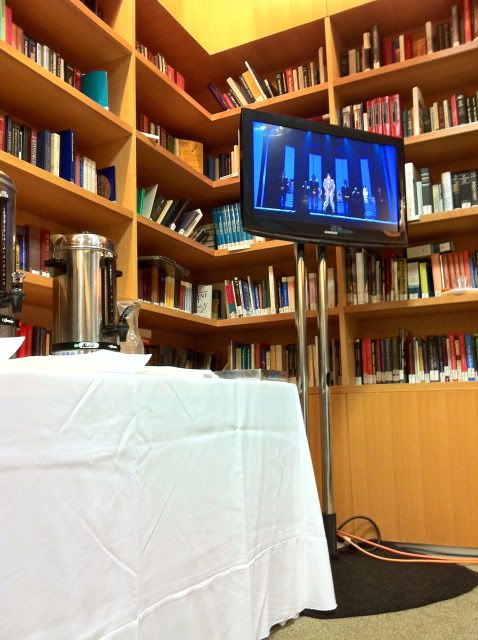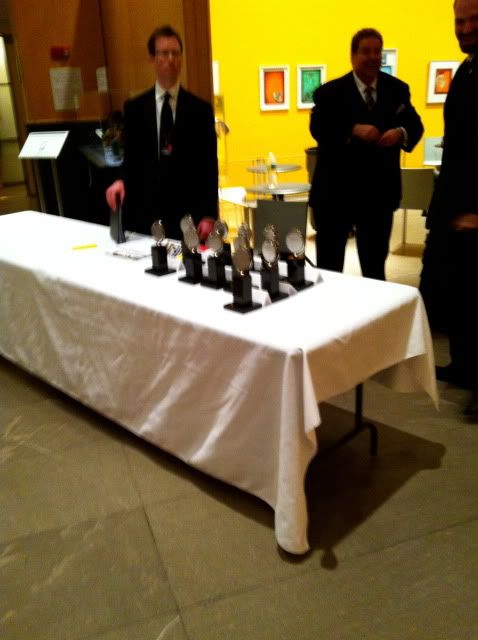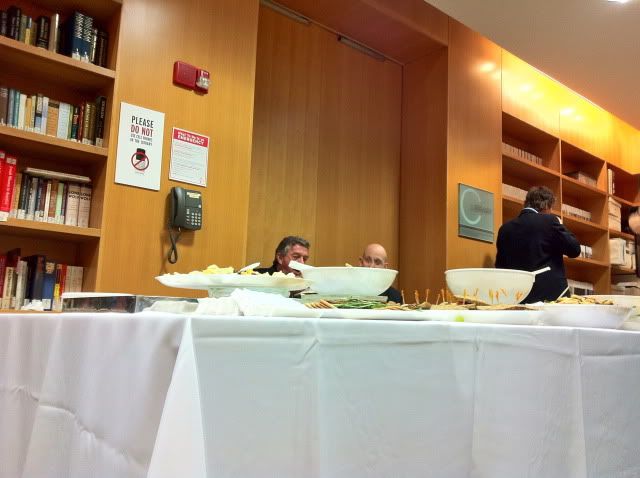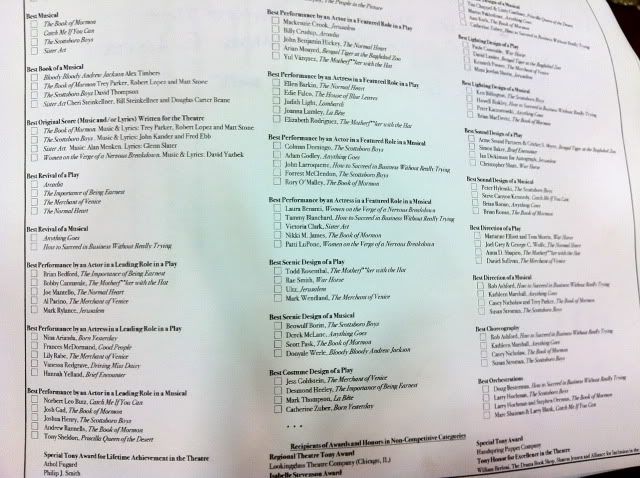 I was so happy that Anything Goes took home the "Best Revival of a Musical" Tony award! Becky and I had gone to see that show just a week earlier… and loved it! We stood outside the stage doors after the show and got some of the actors autographs, and then I saw them a week later and some of them gave me this weird look like "I feel like I have seen you before…" Yea…didn't tell them I wasn't actually important, but rather just another one of those fans that stalks them outside the stage doors after the show.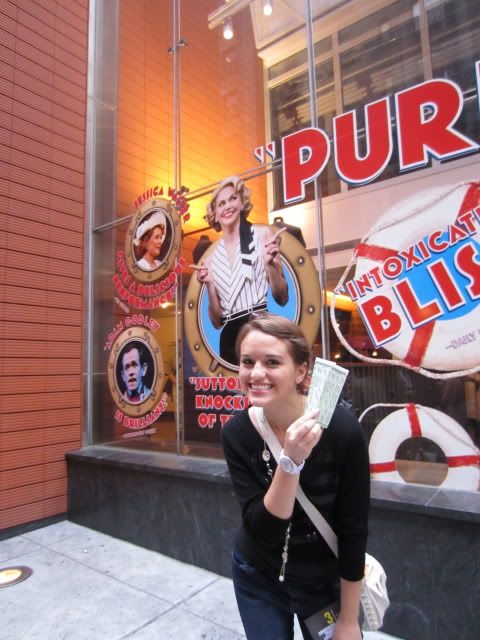 I was so happy for Sutton Foster for getting the Best Actress Tony award. I love that show, mainly, because I was lucky enough to be in it in high school as the angel "Purity." It brought back a lot of hilarious memories seeing it and suddenly remembers the plot, songs, and tap dances I had to do in 3-inch heels up and down rickety staircases. Such good times back then.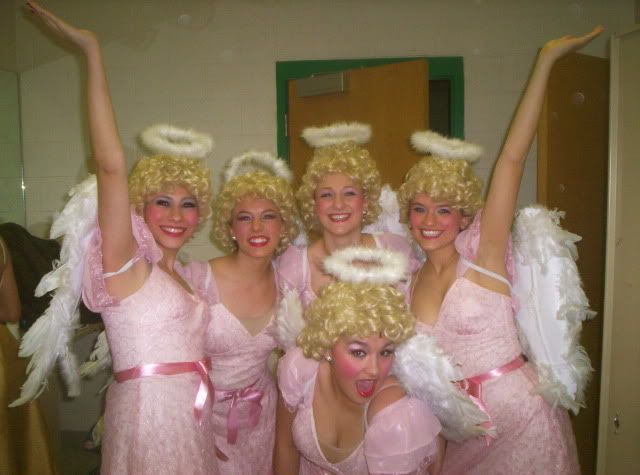 NOWWW for the serious portion of this post that you all knew was inevitable.
Although I have been blabbing for about 5 paragraphs about how much I loved the evening and how incredible it was, you are surely aware that the whole night was one big old "Book Of Mormon" praise festival.
I have gotten asked the famous question "have you been to see the Book of Mormon??" a BILLION times at work or other places after people discover I go to BYU and am a Mormon.
I always give my canned response that I have polished and become quite proud of.
No.
I haven't.
I won't.
Ever.
Why?
It takes everything that is sacred and important to me and mocks it and insults it.
I have made friends over my anti-Book of Mormon speech…probably lost friends…and confused a ton of people who apparently have great ex-Mormon friends who claim to be Mormon and love it.
The musical makes me absolutely sick and green with disgust.
I can't get into how repulsive I find the whole thing.
How much I truly despise and resent Matt stone and Trey Parker for making a mockery of my faith and poking fun at things that are sacred to me.
BUT.
I am also a believer that everything happens for a reason.
And I KNEW that going to the Tonys didn't just randomly.
I had a feeling it had to do with that musical that has become my new obsession over the past few months.
It just so happened that all the Book of Mormon actors and directors got sent to my anchor station to be interviewed.
I literally felt my heart beating so hard as I stood 2 feet away from the few people responsible for thousands of people having a skewed opinion of the gospel.
As I stood there yucking it up with the director's wife about how lovely her bright pink gown looked on her…I decided it was time to stop being fake and blending in and be COUGARGEOUS.
So I did it.
I was awkward, of course, but that is normal for me.
I asked his wife if she or her husband had ever talked to an actual Mormon about how they liked the show.
Her eyes lit up as she said YES!
She had.
And they LOVED it!
I asked her how often that Mormon went to church.
She told me they were only Mormon when they were very young.
Shockinggg.
I asked her if she would like to talk to a Mormon about how they really felt about the show.
She looked totally confused and taken aback.
I then launched into my awkward rampage of how i feel about it.
She listened and let me finish. She was really nice.
She never really responded, but rather asked me where my garments were
.
I told her I hadn't been through the temple yet but was looking forward to the day when I could and when I could begin wearing garments.
She told me to get married early so I didn't have to be an old Mormon maid.
Ok.
Whatever that means.
She told me I looked pretty and she liked talking to me.
She was really nice, and I don't think she hated me for what I said.
So it was done. I told her, and then I met her husband. And I am sure she told him what I said. I can feel it. And so I might have became the first Mormon to inform the director and his wife about how an entire people feel about their lovely musical. or maybe he receives letters from members every day so he already knows...either way, #itwasworthit.
And so that was my Tony experience. I loved it. It was fantastic. I loved it all…except when the Book of Mormon won best musical. But it's ok…they have it coming for them.
If you want to know how I feel about that musical in a better and more eloquent way than I could ever say: PLEASE read this fantastic article from the Washington Post:
The creators of the play Book of Mormon have created the Amos and Andy for the South Park set. We may laugh, but our grandchildren will shudder as decent folk do at "wits" of the last century whose favorite dance was to "jump Jim Crow."
The parts of the Book of Mormon I have seen are as innovative as a Newsies revival and as funny as the cruel, tasteless jokes told by an inebriated coworker at a Christmas party. The difference is that the coworker might sober up in the morning, but the mindless mockery that also gave us South Park will continue.
After all, the theater establishment toasted the two with Tony's and the insiders would never cheapen themselves by rewarding a play for picking on a minority religion loathed in the theater community or behave like decadent Romans horrified by a growing moral minority comforting the libertines by mocking the moral.
I cannot know for sure without seeing the entire play.
If we assume the play a brilliant satire with PR unfortunate enough to release only the cruel and facile bits, then we are still left with two unfortunate truths about this play. First, the writers are cowards. They inflict pain and mockery on those already despised while going soft on the tired assumptions of their rich and powerful patrons. Second, in a pluralistic society they have targeted a group already misunderstood and discriminated against.
I am no Mormon, but I have witnessed bigotry and ignorance directed against this American community. The LDS Church is placed in the difficult position of seeing their most sacred beliefs mocked in a nation that murdered their prophet in a shameful lynching. Broadway has given aid and comfort to the mob of ignorant folk who know nothing of modern Mormonism outside of their prejudices.
No wonder Mormon politicians like Jon Huntsman, bob and weave when asked by bigots if they are part of the LDS church. Few of us have the Mitt Romney courage to stand by our people when the cost is high. For his steadfastness, Romney was linked to the play in a Newsweek parody cover that left only his profile, but a profile in religious courage.
I write this in Istanbul, a city awash in lies told about religious minorities by powerful interests. Here Christians and Jews face "amusing" pop cultural stereotypes, some quite clever, but a wicked cleverness that feeds hatreds. Against this my Turkish friends fight for a respect that goes "beyond tolerance" and voluntarily restrain themselves from inciting prejudice to score cheap gains. It is the only hope for a peaceful republican future for this land.
The same is true for the United States. Theater has an ugly record of pandering to the prejudices of ticket buyers. Minstrel shows produced catchy music and made New Yorkers laugh, but they were shameful and wrong.
The Book of Mormon is a minstrel show for our present age with Mormons as the joke.
Ugly plays did not by themselves produce the Klan or keep some Americans from voting for African-Americans. Original sin was enough for that, but minstrel shows did give racism an artistic and comedic whitewash. When Americans were hurt by the cruel stereotypes, they were told it was "just a joke" and were painted as petty for not laughing along.
Of course no group has been as cruelly treated as African-Americans, but Mormons have a history of being persecuted. They have been exiled in their own land, but have returned unfailing devotion to our Constitution.
This new play will pander to our prejudices and treat our Mormon neighbors as we would never wish to be treated. Some Americans will allow it to confirm unthinking prejudice, while cowardly Mormons will applaud it hoping for crumbs of respectability.
Meanwhile the actual Mormons in our midst will keep paying taxes, making strong families with children, and dying to protect the rights of a decayed and decadent theater "elite."
I stand in solidarity with my Mormon neighbors.