i just read a remarkable book.
you know sometimes when you get a good book in your hand
and you simply CANNOT put it down because every page is so enthralling and riveting that you just have to keep reading? well my mom recommended one of "those books" to me, and i read it last week in

two days.
it is called
"LEFT TO TELL,"
written by rwanda genocide survivor named

immaculee ilibagiza,

who is now one of my favorite and most inspirational people. the book is about her amazing survival story during the genocide in her nation that killed a million people, including most all her family and friends. the hutu's in rwanda killed most all the tutsi's....and immaculee was forced to hide in a tiny bathroom to save her life. she survived through prayer and a belief that God would protect her.
she prayed all day long for three months.

when the genocide was over, she was able to look the man who had killed her parents and brothers straight in the eyes and forgive him through her faith in God. this book had me crying like a baby....but it really was a testimony builder. it shows that with a
pure faith and trust in God you can do ANYTHING.
and it show that all of our lives are really just not that hard. seriously.

i am so blessed to live in this safe country.
i can't do the book justice, but if you are looking for a quick read this summer that is entertaining and inspiring, then please read this book.

it is a gem

. watch this for a more complete look on the kind of incredible woman immaculee is: (what i would give to be the reporter talking to her...i want to meet her SO bad!!!)
i could not have read this book at a more convienent time. after the genocide ended, immaculee decided she needed to become the change she wanted to see in the world...and went to work for the
United Nations
in Manhattan.
and i got to visit there today.
and it meant so much more after reading this book. i would love to work for them and make a difference in this world.....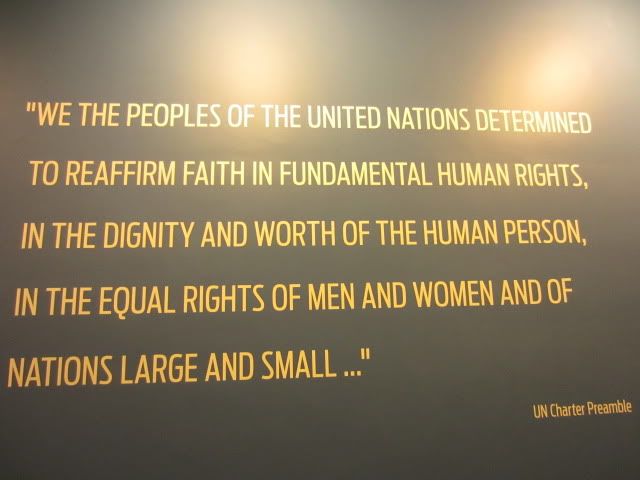 i loved this: